Magic Birthday Parties
Your Child is the star at " Happy Sunshine's " Famous, Magical Balloon Shows.
Craig Ingham known to children everywhere is " Happy Sunshine The Magical Balloon Man ". The children will roar with laughter when Craig takes them on a magical ride of wonder and merriment - his action packed 45 mins to 1 hour magic shows are often talked about for months after, with many repeat bookings. He mixes Magic with Balloon Twisting and games.
Happy Sunshine is the perfect entertainment for any Birthday Party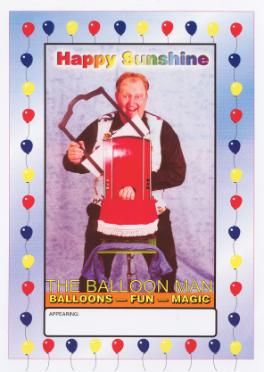 Please click here to download your very own Magical Rabbit colouring in sheet
To books for your next birthday party
World Stage Promotions ©2011 Mobile: 0413 312 786 Email : craig@worldstagepromotions.com Postal Address: P.O. Box 1432, Mudgeeraba. Old 4213, Australia